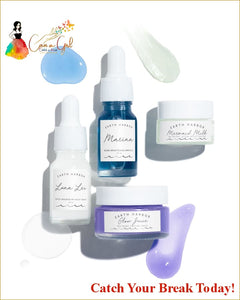 The deluxe mini collection for bringing balance, purity, and a glowing complexion to your cherished face. Especially beneficial for oily, combination and congested skin types, yet wonderful for all skin in need of clarifying, soothing, and gentle exfoliation with a light dose of hydration. This is the perfect discovery kit for experiencing Earth Harbor's customizable skincare rituals through mixing, blending, and layering products for personalized results.
MARINA Biome Brightening Ampoule: Marina Biome Brightening Ampoule is named for the treasured ocean-blue botanicals she possesses, Spirulina + Blue Tansy. She harbors highly-concentrated adaptogenic oils that vigorously brighten and balance for an even, radiant complexion. An overachiever, she works at a deep level optimizing skin's delicate microbiome to quickly and noticeably improve overall skin health.
GLOW JUICE Refining Enzyme Mask: A purple paradise, this powerful fast-acting AHA/BHA gel mask naturally resurfaces + cools + firms skin with Red Seaweed, Fruit Enzymes, White Willow Bark and Aloe Leaf Juice to reveal greater clarity, improved skin texture and tone, and a more youthful glow — all without irritating your skin.
LUNA LEI Phyto-Resurfacing Night Serum: Endow your skin with a garland of moonlit Hawaiian magic. A rich, featherlight serum featuring a medley of Seaweed Collagen, Tropical Superfruit Acids and Botanical Multivitamins that refine and retexturize skin to reveal a smoother and more radiant looking complexion — all while you enjoy your precious beauty sleep.
MERMAID MILK Nutrient Glow Moisturizer: A purely synthetic-free, replenishing moisturizer that hydrates, plumps and balances skin while giving you a mermaid glow. This lightweight, creamy formula is packed with Superfoods Spirulina & Matcha, along with concentrated Phytonutrients + Antioxidants + Vegan Hyaluronic Acid that perfectly moisturize, soothe and nurture skin. She is non-greasy, never oily nor sticky, and absorbs quickly. Wear her under makeup or alone to let skin breathe.
COLLECTION CONTAINS ($65 Value):
-5 mL MARINA Biome Brightening Ampoule
-7 mL GLOW JUICE Refining Enzyme Mask
-5 mL LUNA LEI Phyto-Resurfacing Night Serum
-7 mL MERMAID MILK Nutrient Glow Moisturizer
Purely Natural · No Synthetics · Vegan · Cruelty-Free · 100% Non-GMO / Organic · Nontoxic · Fair Trade · Gluten Free · Soy Free · No Fillers · Plant-Based · Food-Grade · pH Optimized · Scientifically-Proven Ingredients · Therapeutic-Grade · Handcrafted Small Batches in the USA · 1% For The Planet®
30-Day Love It Guarantee
The Ritual
GLOW JUICE Refining Enzyme Mask: Apply to clean skin. Leave on 3 or more minutes. Rinse with warm water. Gentle tingling is normal as she works to lovingly resurface and exfoliate your skin. Use 2-3 times per week. Tip: Glow Juice doubles as a spot treatment gel that quickly fights, fades, and prevents blemishes. Simply cleanse skin thoroughly, then apply a thin layer 1-3 times daily or as needed.
LUNA LEI Phyto-Resurfacing Night Serum: Gently shake. Apply 3-8 drops to clean skin and massage in. Use nightly or as often as needed. Very slight tingling is normal, particularly for the first few days of application. For daytime use, follow with SPF before going outside. Please discontinue using if irritation occurs. Tip: Mix with Marina Ampoule and apply them together for ultimate absorption and soothing benefits.
MERMAID MILK Nutrient Glow Moisturizer: After cleansing and toning, massage a small amount into skin in upward, circular motions. Apply more as needed based on your skin's present moisture level. Allow Mermaid Milk to absorb before applying makeup. Apply serum before Mermaid Milk. For extra skin benefits, be sure to apply facial oil ambrosia afterwards or mix them together. Tip: This lightweight cream absorbs quickly, making her a great makeup primer.
MARINA Biome Brightening Ampoule: Apply two or more drops to your skin after cleansing and toning, as needed. If using another treatment and/or moisturizer, massage Marina until absorbed. For a daily skincare cocktail: Add two or more drops of Marina to any Earth Harbor serum, facial oil or moisturizer both morning and night.
The Elegant Rhinestone Bracelet is the product you didn't think you need, but once you have it, something you won't want to live without.