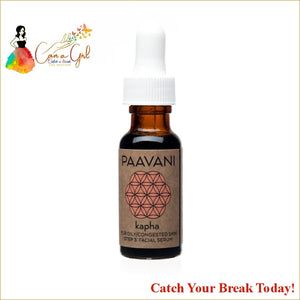 Our Kapha Serum is formulated with pure, organic oils that are specially selected to balance the natural oil production of your skin. Acting as a daily skin food, cell regenerator & protectant, this all-encompassing serum unclogs & shrinks large pores, reduces oiliness & improves overall skin tone . The lightweight, fast absorbing characteristics of this serum's organic oils are thanks to their high levels of linoleic acid. This unsaturated fatty acid helps to reduce the thick, sticky nature of the skin's sebum; therefore, creating less of an oily sheen on your skin. This serum is non-comedogenic, meaning that you can rest assured knowing that it will not clog your pores. Experience revitalized, balanced, glowing skin!
KEY INGREDIENTS:
Argan Oil 
Argan oil is nature's protective, nourishing superfood for your skin! This light, non-greasy oil balances the skin's natural sebum, making it ideal for oily & acne-prone skin. It is packed with omega fatty acids, vitamin E, antioxidants & linoleic acids, all which lightly moisturize the skin, reduce inflammation, fade scars & even prevent breakouts. Lastly, argan oil is a zero on the comedogenic rating scale, meaning that it absolutely will not clog your pores!
Cypress 
You may know Cypress for its evergreen smell or use in landscaping, but when used topically it has many useful benefits for the skin. Cypress essential oil contains astringent properties called monoterpenes which can help reduce oily skin, firm & even skin tone. This essential oil also contains antimicrobial properties, making it a helpful treatment for sores, pimples & cystic acne.
Lemongrass
As its name suggests, lemongrass essential oil is steam distilled from the stalk & leaves of an uber large, thready grass. This Southeast Asian herb has antimicrobial, antibacterial, antiseptic, anti-inflammatory & antifungal properties, making it cleansing & purifying when applied topically to the skin. Lemongrass can sterilize & minimize your pores, balance excess oiliness, work as a natural toner, fight blemish-causing bacteria & strengthen the tissues of your skin.
Grapeseed Oil 
Did you know that grapeseed oil is a byproduct of making wine? After the winemaking process, grape seeds are leftover & then pressed into a nutrient-rich oil. Rich in omega-6 fatty acids & vitamin E, grapeseed oil dramatically improves the look & health of the skin, without leaving a greasy residue or clogging your pores. This oil is especially beneficial for its ability to gently moisturize the skin, lighten dark spots, heal blemishes, tighten pores, reduce scars, increase collagen production & protect against sun damage. 
FULL LIST OF INGREDIENTS: Hemp Oil*,Grapeseed Oil*, Pumpkin Seed Oil*, Sage* Infused High Linoleic Safflower Oil*, Castor Oil*, Argan Oil* & Essential Oils of Cypress**, Tea Tree**, Lavender**, Frankincense** & Lemongrass**
*certified organic  **certified pure therapeutic grade
SIZE: .5 oz glass bottle
Infused with Ayurvedic Healing Mantra. Tested on Family & Friends. Handcrafted in Small Batches with Love.
If irritation occurs, discontinue use. These statements have not been evaluated by the FDA. This product is not intended to diagnose, treat, cure, or prevent any diseases.
The Sexy leather high heel peep toe ankle boots is far and away, one of our most popular items. People can't seem to get enough of it.